$34.99
DOLODOL VITAMINATED
Indicated against Pain:
Toothache – Tooth Pain – Earache – Maxillofacial Pain – Headache –
Reduces inflammation and lowers fever – Neuralgia – Neuritis.
PROPERTIES AND ADVANTAGES:
DOLODOL Tablecap to reduce inflammation and to lower the temperature when there is fever; associated with neurotropic vitamins B1, B6, B12 that are important for the normal maintenance of metabolic processes in nerve cells, thus presenting a global analgesic action.
Also in this way helps combat nerve pain
(Neuralgia, Neuritis).
Compare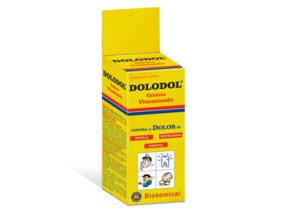 Content: 20 Envelopes of 4 Tablecaps
CONTRAINDICATIONS AND WARNINGS:
Hypersensitivity to any component of the formula.
Do not use it in people allergic to aspirin and in pregnant or lactating women.
The use in patients with gastrointestinal problems (gastritis, ulcers) is left to the discretion of the doctor.
ROUTE OF ADMINISTRATION:
ORAL
DOSE:
It is generally recommended:
Youth 15 years and over: Take 1 tablecap 2 or 3 times a day.
Adults mild or moderate pain: Take 1 tablecap every 4 to 6 hours.
Adults severe pain: Take 1 and 1/2 to 2 tablecaps every 8 hours
(take no more than 6 tablecaps a day)
DOLODOL Tablecap Vitamin, can be taken with water, soft drink, milk or together with some food.